Accomodation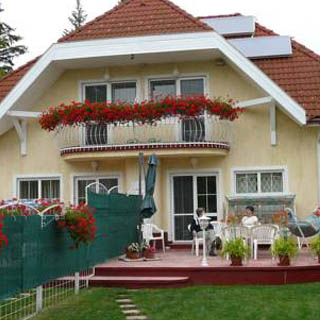 Balatonkenese is a popular holiday resort on the north-eastern shore of the Lake Balaton. The shore of the lake deepens here slowly therefore it is safe for families with little children as well. The guest house is situated on the promenade along the shore. The guest house is located in a pleasant environment, and it is furnished at a high standard, and is located in a 50 m distance from the free beach, and 800 m from the pay-beach. Shopping and catering facilities are located in the vicinity. The town centre, the harbour and the railway station are in a distance of 1 kilometre.
The holiday house is a semi-detached house like building. Sides "A" and "B" of the building both have their own entrances. A swimming pool with water recirculation system serves the comfort of the guests. Sides "A" and "B" of the building can be booked together as well. Both sections of the guest house can be booked all year round. The house has central heating. You may book your apartment or room through the Internet and through telephone as well. On both sides of the building, 2 or 3 cars can be parked within the enclosed yard.
We provide the facility of fishing for our guests on our floating stage on the Lake Balaton..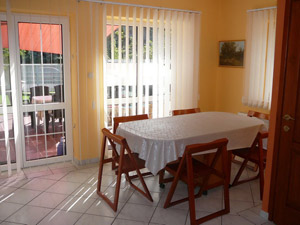 Adra Villa: Side A: apartment for 7 persons Side B: Room with 3 beds and a kitchenette - Double room