Contact/Route Maps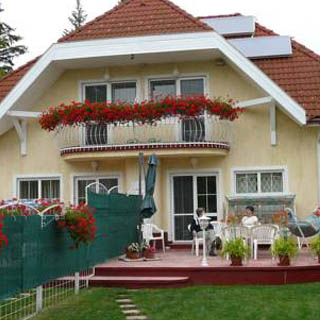 Balatonkenese inner-city area:
1. Go up to the traffic sign indicating the way to Balatonakarattya on road 71 in the area of the inner city of Balatonkenese
2. Turn to the left immediately after the traffic sign showing the mentioned place name and cross the railway
3. Turn left to the second street (Vak Bottyán Str.) after the railway crossing
4. Approximately after 500 m turn left at the sign showing "Nyárfa sor, Parti sétány" turn left, then at the end of the street turn left again, there you will find the Adravilla, Parti sétány 100/A-B (a yellow house with a yellow fence)
Route from Budapest to Balatonkenese:
1. On the motorway M7 go as far as the 89 km traffic sign, and exit the motorway to the direction of Enying-Balatonfüred
2. On road 71 turn to Balatonfüred
3. The first settlement is Balatonakarattya, at the end of which, after the traffic sign showing the route to the "Vak Bottyán strand" and the railway crossing turn left and go across the railway crossing Our guests arriving by train should get off the train at the station Balatonkenese-Üdülőtelep or at the station Balatonkenese. From both stations you may get to the guesthouse on foot (approx. 1 km). Upon request we can provide a pick-up service to our guests.
Route from Hegyeshalom border crossing to Balatonkenese:
1. Border crossing - Austria-Hungary - Hegyeshalom
2. Motorway M1 to Győr
3. Exit from the motorway M1 at Győr, to the direction of Veszprém-Balaton (Road 82)
4. At the end of Road 82, at Veszprém, in the roundabout turn to the direction of Balaton-Veszprém
5. After 600 meters turn to the direction of Székesfehérvár (Road 8)
6. After 6 km turn right to the direction of Balatonfűzfő (Road 72)
7. At the end of Road 72 at Balatonfűzfő turn left (Road 71) to the direction of Balatonvilágos Motorway M7
8. The next settlement is Balatonkenese
Route from Sopron border crossing to Balatonkenese:
1. Border crossing - Austria and Hungary – at Sopron
2. Road 85 to Győr
3. On the boundary of Győr enter motorway M1 to the direction of Budapest
4. Take the exit from Motorway M1 at Győr, to the direction of Veszprém-Balaton (Road 82)
5. At the end of Road 82 at Veszprém, in the roundabout turn to the direction of Balaton-Veszprém
6. After 600 meters turn to the direction of Székesfehérvár (Road 8)
7. After 6 km turn right to the direction of Balatonfűzfő (Road 72)
8. At the end of Road 72 at Balatonfűzfő turn left (Road 71) to the direction of Balatonvilágos Motorway M7
9. The next settlement is Balatonkenese
Route from Rábafüzes border crossing to Balatonkenese:
1. Border crossing - Austria and Hungary – at Rábafüzesnél
2. Road 8 to the direction of Veszprém Székesfehérvár
3. After 6 km following Veszprém turn right to the direction of Balatonfűzfő (Road 72)
4. At the end of Road 72 at Balatonfűzfő turn left (Road 71) to the direction of Balatonvilágos Motorway M7
5. The next settlement is Balatonkenese